Over time, depending on what we eat, our teeth can accumulate stains and discoloration. In the case of staining and discoloration, it is common for patients to want their teeth whitened. Here at Complete Dental Care, we offer in-office whitening for all of our patients in the Spokane, WA, and Kellogg, ID areas. We want to help you achieve the smile that you want and dream of.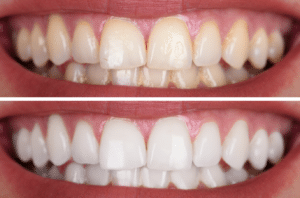 In-Office Whitening
We offer in-office whitening for our patients who desire to have a brighter smile. Even though it is called in-office whitening, it is all done within the comfort of your own home. We will give you all of the materials, and you can whiten your teeth whenever you see fit!
After discussing your desire to whiten your teeth with Dr. T.J. Scarborough or Dr. Nick Sampalis, an impression of your teeth will be taken. This impression is used to make clear and soft retainers that will be your bleach trays. These trays are used to hold the bleach for better teeth whitening results.
This bleach isn't what you think. The bleach used is healthy oral bleach used to whiten teeth. With special instructions from the dentist, you will be given the bleach and the bleach trays to take home to start whitening your teeth!
Why In-Office Whitening
Because teeth whitening is desired among people of all ages, many over-the-counter products have been purchased. These whitening products include, but are not limited to, whitening toothpaste, whitening mouthwash, and whitening strips. These over-the-counter products are great if you are looking for temporary results.
One downfall to these over the counter products is that they have to be used constantly for a period of time. Due to the need and desire for white teeth, these products are being purchased to maintain results. Purchasing these products over and over can become very expensive for temporary results.
With in-office whitening, you will ultimately save money and have better long-lasting results!
Our patients are our top priority! We want anyone and everyone that steps foot in our offices to feel taken care of. If you have been considering a teeth whitening procedure, please schedule an appointment with us. We would love to share whitening options with you!
If you are in Spokane, WA, or Kellogg, ID, please know that our dentists and staff here at Complete Dental Care are here to take care of your dental needs. Please call us with any questions.